One of the things that I hate in my iPad 2 is the lack of handwriting recognition support. So, I have been tracking every single news about Windows 8 trying to find if this feature and all the improvements gained since XP Tablet PC edition have been included in this new version of Windows.
This week Microsoft gave developers a preview of Windows 8. I'm going to show you two screen captures taken from that preview.
I love ink. A very clear message. But this is not all. I zoomed the button indicated using the arrow. And here is what it says.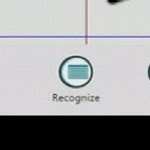 Of course, many things can change from this Alpha version and the final version but let's hope that this is not one of the one that won't be included.